Alexander and the Terrible, Horrible, No Good, Very Bad Day
Written by Judith Viorst
Illustrated by Ray Cruz
Reviewed by Gabriela N. (age 8)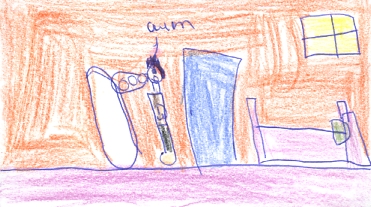 The book is about a boy named Alexander who had a very bad day. His day keeps on getting even worse. First he is at home. Next inside the car, then the cafeteria, then at the dentist, in the driveway, shoe store and post office.
I think if he just listened he will have a good day. I like the book because the dentist said that he has cavities. I like this part because Alexander said he would be in Canada on Wednesday (when the dentist told him he'd have to come back). I thought that part was funny because I knew he didn't really have to go to Canada. When he got to the shoe store he had to get white sneakers. I like these parts because he was very angry. It was a little funny. My favorite part is that he had gum in his hair. When he had gum is in his hair, his hair was pointy and sticking out to the side and he said that that's what he gets for sleeping with gum in his hair.
I recommend this book to ages 5 and up.