Junie B. Jones and the Yucky Blucky Fruitcake
Written by Barbara Park
Illustrated by Denise Brunkus
Reviewed by Gabriela N. (age 8)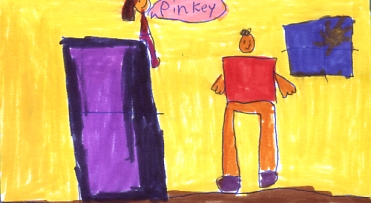 The book is about Junie B. who wins games with her grandpa. When she got to school, her friends won all the games. She felt mad. Then her school had a carnival and she went. She practiced at home. She made every goal at her house until she got there. She went to the cake walk and she won a fruitcake because she was standing on the number that they called.
I like the book because it was really funny. My favorite part is that she called her grandpa Pinkey. I can connect with when my mom left me with my grandpa. I like the illustration because it matches the words. It shows where she is and I can see what she sees.
I will recommend this book to children ages 7 through 10. I think they might have a connection with when they were little.