The Babysitters Club #59 Mallory Hates Boys (and Gym)
Written by Ann M. Martin
Reviewed by M.C. (age 7)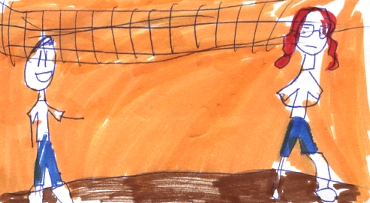 This book is about Mallory, Chris, Ben, Stacy, Claudia, Mary, Ann, Dawn, Jessi and Kristy. Mallory is not a sports person. And she hates gym. She does not like her gym suit. And in gym she is learning volleyball and she does not like volleyball because she does not like sports. The setting is Ben's house, gym and home. Mallory is the junior babysitter so she only babysits at night. Half of this book is about the club and the rest is the story about Mallory.
I liked this book. I like it because she added detail. Mallory reminds me of me because I do not like gym. My favorite part is when the club teases Mallory. It was my favorite part because they were saying funny things.
I recommend this book babysitters because they talk about babysitters.