Wayside School Gets A Little Stranger
Written by Louis Sachar
Reviewed by Brigitt A. (age 9)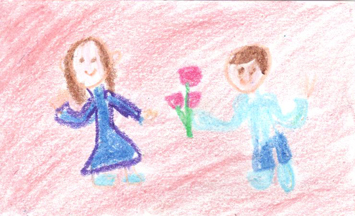 If you want a weird book, you should get Wayside School Gets a Little Stranger. It is a class that gets three substitute teachers because their teacher Mrs. Jewls is having a baby. Each substitute teacher has their own story: Mr Gorf has three nostrils and he took each child's voice into the middle nostril and none of them could talk. Mrs. Drazil made the park teacher Mr. Louis change his ways and Mrs. Nogard could hear every thought inside the children's brains. Will they see Mrs. Jewls again?
I think this book is a very weird one. It is weird because you don't find teachers that can do all these things. My favorite part was at the end of the story when Mr. Louis likes Mrs. Nogard. I felt happy that Mrs. Nogard got a new date. My favorite character was Mrs. Nogard even though she hated children. I liked her for one reason, she changes from mean to kind.
I dedicate this book to Erik, one of the tutors at Page Turners. He was too curious to find out what happened in the story. I would recommend this book to people who like silly things, such as my friend Amber.