The Jalapeno Man
Written by Debbie Leland
Illustrated by Debbie Leland
Reviewed by Lila S. (age 7)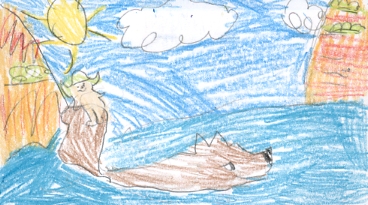 "Yippee Yi Yay!" I read The Jalapeno Man! The book is about a red hot Jalapeno man who runs away from everyone who wants to eat him. The jalapeno man comes to the Rio Grande River and can't get to the other side. A wolf comes along to help him. What happens to the jalapeno man? You will have to read the book to find out.
My favorite character is the red hot jalapeno man. I like him because he was adventurous and brave up until the end. I like this book because it was very funny and awesome. This book it similar to the story The Gingerbread Man. This is the Texas version of the story. It reminds me of my first jalapeno that got in my mouth. It was so hot! I think you should read this book to find out what the red hot jalapeno man goes and does. The pictures in this book are very funny.
I would recommend this book to kinder and first grade students. Anyone who likes the Gingerbread Man story will love this version!