Captain Underpants and the Perilous Plot of Professor Poopy Pants
Written by Dav Pilkey
Reviewed by Christian M. (age 7)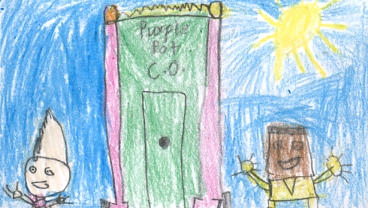 "Tra laa laaa!" Two boys named George and Harold are not supposed to use their time machine. They landed in this strange world where everything is the opposite. But that's only the beginning. If you want to see what happens next, you will have to read this book.
I like this book because it's funny. The funny part of the book is when George and Harold make a comic book about George and Harold's grandparents. While George, Harold, and Mr. Beard were arguing George and Harold went into the future. I like the pictures that are in the book too. They are very funny. This book is one in a series of eleven books. I enjoy reading Dav Pilkey's stories so much that I have read all but one of the eleven books.
I recommend this book to 1st grade and 2nd grade. It is very funny. There is a very cool part in the book that I think you would like because it is funny and awesome. Are George and Harold ever going to come back?