Tim Tebow: Always a Hero
Written by Tim Polzer
Reviewed by Ethan M. (age 7)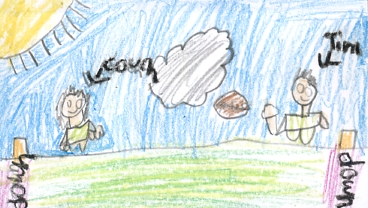 How many touch downs has Tim Tebow thrown? Tim Tebow Always a Hero is a neat book. It tells about Tim's life and how his career started. Tim was a big time football player in college. He played football for the Florida Gators. If you want to learn more about this famous football player you can read this book.
This book reminds me of how I like to play football. The book is similar to a book I read about, Wayne Rooney, a famous soccer player. When I read this book I pictured myself as Tim. I play football and hope to one day be like him.
I recommend this book to kindergarten through second graders .People that like football and the New York Jets would love this book.