Little Rabbit Foo Foo
Written by Michael Rosen
Illustrated by Arthur Robins
Reviewed by Ameerah J. (age 6)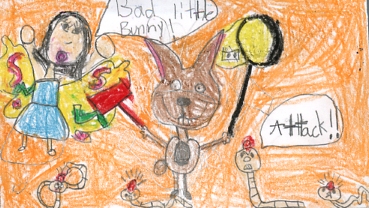 I just read a great book called Little Rabbit Foo Foo. It's about a bunny that bops everyone he meets on the head! Can the good fairy make him stop that so he won't get in trouble by her and get turned into something bad? Read the book to find out what happened to Little Bunny Foo Foo.
This story teaches little kids their lessons to listen to their parents. But, little Bunny Foo Foo has not changed so he gets a very bad punishment! My favorite part of the story was when Little Bunny Foo Foo bopped the goblins on the head while he was riding a motorcycle. I really liked it because there were a lot of characters that are very funny.
I recommend this book to first graders and up. It will definitely make you laugh!