Grandpa's Teeth
Written by Rod Clement
Illustrated by Rod Clement
Reviewed by Adrianna D. (age 9)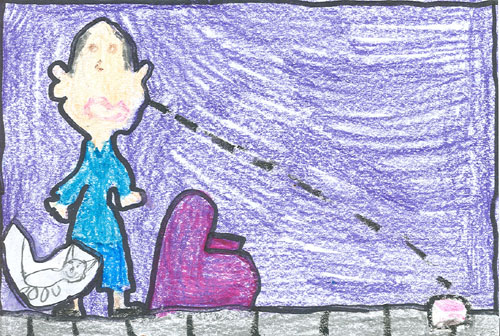 Come along and help Grandpa find his missing teeth. The book that I hope you will read is about a Grandpa who misplaces his teeth and can't locate them. Everyone would love listening or reading Grandpa's Teeth. He now talks funny and doesn't want to be stuck talking like that. Everywhere he goes the town people are smiling. You have to read the book to find out the big mystery, where are Grandpa's teeth? This book is realistic fiction.
I thought this book was wonderful and hilarious. It is very amusing because when Grandpa talks he sounds funny because he doesn't have any teeth to talk with. My favorite part in the book was when everybody has to smile everywhere. This reminds me of the time when my sister mouth was numb and she couldn't talk right and she was talking weird. I think everybody will laugh when they read this book.
I think any person can read this just for their amusement because it would be easy for people or they can just read it for their entertainment. Anyone that enjoys mysteries would probably really like this book. I recommend this book to grades 2nd to 4th. This book has 28 colorful pages.