Hachiko Waits
Written by Leslea Newman
Illustrated by Machiyo Kodaira
Reviewed by Francesco B. (age 8)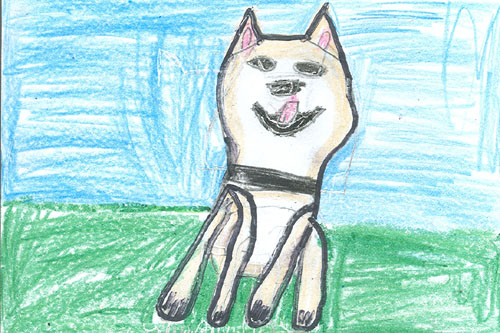 Are you interested in pets? Well then this book is for you! A golden brown Akita dog named Hachi waits for his owner the professor at the train station while he's at work. Every day Hachi picks up his professor from the train station. One day Hachi couldn't find his professor at the train station. What happened to the professor? If you want to know what happens, find the nearest library and get reading.
I thought the story was remarkable. I liked how the author made us love the characters. The pictures look very realistic. If my dog was still alive I would care about him. I would like to see him again. And hope to see him in my dreams. This book reminds me of a book called ''A Cat in Heaven". It's about a cat that dies and goes to heaven.
I think other kids should read this great book because it might remind them of special family members. I recommend this book to people who like biographies. I also recommend this book to 3rd -5th graders because it has tricky vocabulary. I think Hachi will interest the readers because he is a special dog. Kids that are 7-10 years old should read this book. This book has 90 pages.