Junie B. Jones and the Stupid Smelly Bus
Written by Barbara Park
Illustrated by Denise Brunkus
Reviewed by Renamarie V. (age 8)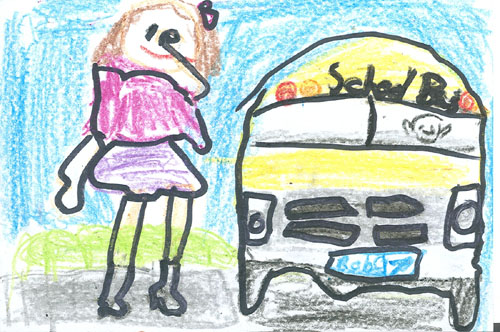 Are you into Funny books? Then this is a great story to read! It is about a girl that just starts school and hates the bus on the first day of school! She thought the bus was different from a car and the bus is really smelly. There are many humorous parts in this book with Junie B. Jones first day of school. If you read this book you will find out how she gets through the year with a really smelly bus she had to ride.
I thought this book was really humorous when it came to the end of the story. Junie B. Jones is my favorite character in the story. She is my favorite character because she called her teacher Mrs. instead of her real name. My text to self connection is when I was in kindergarten and I thought the bus was really smelly and was really different from a car too.
I would recommend this book to kids from K to 2. I would recommend this book to kids from K to 2 because it would be a just right book. I would also recommend this book to kids that love realistic, humorous fiction. This book is a really easy chapter book with only 69 pages. So run to the library and check out this book before it's too late.