Nancy Drew: The Hidden Staircase
Written by Carolyn Keene
Reviewed by Kathleen O. (age 8)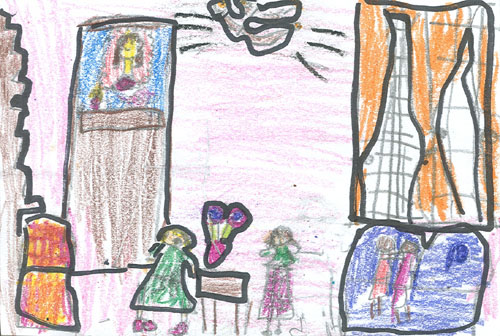 Are you a fan of mysteries? If you are you will love this book. This book is about a girl named Nancy who discovers her friend's aunt's house is haunted. Meanwhile Nancy's father is missing! Will she find her dad? Will she solve the mystery?
I adored this book! I adored it because there are so many daring things Nancy does in this book. I think this book is a lot like the Secret of the Brass Bound Trunk. That is also a Nancy Drew book. I liked this book better because it was more interesting. My favorite part was when the chandelier started to shake and everyone was downstairs to see it. That proves the house is haunted! I like Nancy because she never gives up. Nancy is just like me I never give up. There aren't many pictures in this book there are only two pictures. This is very easy to visualize. You don't really need the pictures in this book. This book was an enjoyable book because it made me wonder who the ghost was. Is the house really haunted?
I would recommend this book because it is adventurous. Everyone likes a book that has some adventure. Anyone who likes mysteries will love this book because, Nancy is always in danger! This book has 182 pages! I hope you get it soon and run to the bookstore before they run out!