The High-Rise Private Eyes: The Case of the Missing Monkey
Written by Cynthia Rylant
Illustrated by G. Brian Karas
Reviewed by Dylan F. (age 8)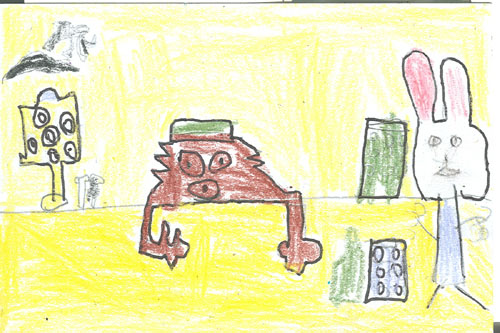 Quick! Grab your magnifying glass and note pad and get ready to search for clues in this mystery book of the Case of the Missing Monkey. Jack Jones and Bunny Brown are the dynamic duo who has to solve this mysterious case and find the culprit.
I like this book because it is a mystery. I enjoy trying to solve the case as I read for clues before I finish the book. In this series the crime is always something borrowed and not stolen which I think is silly. This book reminds me of when my brother takes my IPod without asking.
I recommend this book to readers who are learning to read by themselves. The words are not too difficult to read and understand. This book is 48 pages so it's not too long to read. Children who like mystery books will like this story because the crime solvers work well together and Jack Jones is silly. The pictures are colorful and once you finish this book there are other cases to solve in this series.