The Book Report From The Black Lagoon
Written by Mike Thaler
Illustrated by Jared Lee
Reviewed by Michael M. (age 9)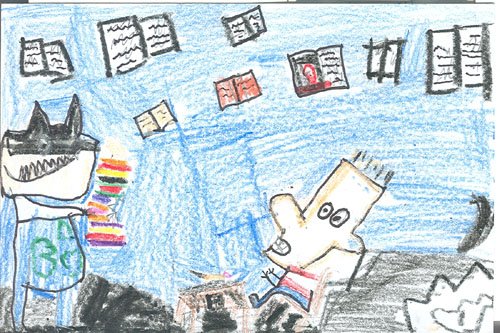 "A book report due in two weeks?"" I'll never do it! I'm doomed!!!" Hubie is a terrible reader and dislikes reading because he is a slow reader. He would actually do the report on a video game. Will Hubie actually do the report or will he get a failing grade? You're not going to find out until you sit down and read this book. Hopefully like Hubie, you will get lost into the story.
This book was awesome because it has cool looking pictures. Also the author uses speech bubbles to tell the story between Hubie and the other characters. I can relate to this story because I am similar to Hubie. I don't like writing book reports and it takes a long time to read stories. Hubie teaches readers to get hooked on a book so it doesn't seem like you're doing work.
I would recommend this book to students who are in second or third grade. It's a funny story with creative black and white pictures. It's 29 pages so it's a quick read. I suggest anyone who likes reading Black Lagoon series to read this book. Once you're done with this story, there are many more for you to read and enjoy.