Magic Tree House: Summer of the Serpent
Written by Mary Pope Osborne
Illustrated by Sal Mardocca
Reviewed by William S. (age 9)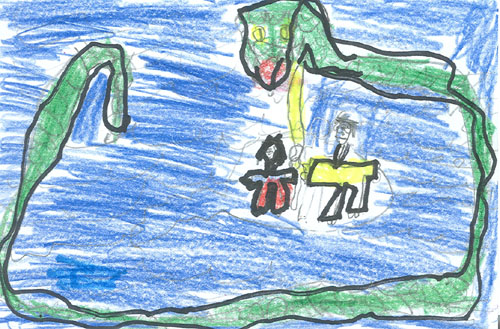 Do you like fantasy? Well, if you do read this book. It is about Jack and Annie going on a big adventure by following a rhyme. They are in search of a golden sword. Jack and Annie always go on journeys. Where will this journey take them? Will they meet new creatures? Follow them as they go on their search.
I think this book was … amazing! I thought the book was awesome because the illustrations were great! My favorite part of the book was when they found the sword of light. It is different from the other books in this series because this one has a monster and the others don't. Something they have in common is finding something magical. The character Jack interests me because he is smart, and he knows a lot about the places they go.
I would recommend this book to 2nd - 4th graders because it would be too hard for 1st graders and too easy for 5th graders. If you are a fan of fantasy you should read this book. There are 113 pages. Ask your parents drive you to the library and start reading.