Nancy Drew and the Clue Crew- Thanksgiving Thief
Written by Carolyn Keene
Illustrated by Macky Pamintuan
Reviewed by Sammi R. (age 8)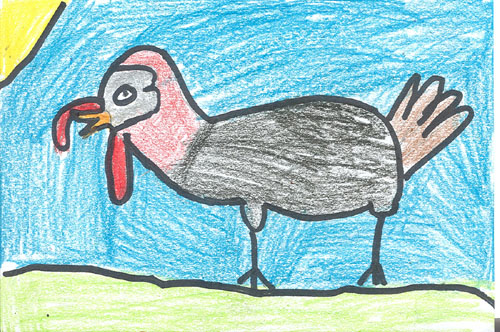 Do mysteries interest you? If they do this is a book for you. These books are about three friends named Nancy, Bess and George trying to solve a mystery on their street. This book has 80 pages. This chapter book I think is the funniest of all Nancy Drew and the Clue Crew series. I think that it is funny because Nancy Drew and the Crew keep finding animals at all the crime scene. Read this book to find out more!
I thought the pictures were funny. I thought that the pictures were funny because of all the action in the book. This book reminds me of Thanksgiving when someone steals all the food. All of us found out that it was my brother Bobby with everything! This funny book reminds me of anther book in the series. That book is Case of the Spooky Snowman. It reminds me of that book because they try to find a snowman.
I think other kids should read this book because it is fun trying to find out the mystery. I think 6 to 9 year olds would enjoy this book. The part that will interest you is finding out who is doing the crime. So if you like this book, go get it or download it!