Goosebumps- Say Cheese and Die-Again
Written by R.L. Stine
Reviewed by Eleanor H. (age 9)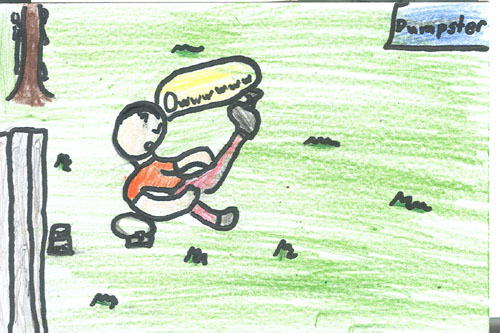 This book is about a boy and his 2 friends that find an evil camera in a haunted house. He did a book report on it and got graded an F! If he didn't get his teacher to believe him and try to change his grade he wouldn't get the summer he wanted. Read this book to find out if he actually convinced his teacher to change his score.
I liked this book because I enjoy getting really terrified. Another reason I loved this book is because the book has no pictures but describes things very well. My favorite part is when Greg and his friend find a way to solve the problem that they accidently made with the evil camera. Also I think the characters are very smart because they solved a very bad problem they made with the evil camera. This reminds me of when I color a picture wrong with marker and I can't erase it. Also this book reminds me of the book, All That's Left is a Rotten Ghost, also by R.L. Stine. Both of the books are part of the Goosebumps Series. This book is my favorite!
I highly recommend this book for 3rd and 4th graders because it has some tricky words. You might want to read this book because it's a scary mystery. If you like frightening mysteries you should definitely read this book. This book has 115 pages in it.