The Stories Julian Tells
Written by Ann Cameron
Illustrated by Ann Strugnell
Reviewed by Dylan K (age 8)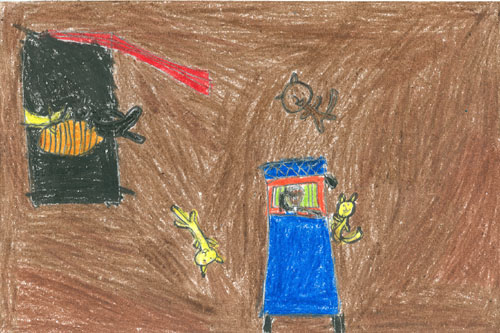 In the story The Stories Julian Tells I met Huey and Julian. Julian likes to tell Huey stories that aren't true. Sometimes Julian gets in trouble. One day Julian's dad asked Huey and Julian if they wanted to plant a garden. They both said yes at the same time. The dad told Huey and Julian he would get a catalog. Julian told Huey that there are pictures of hundreds and hundreds of cats in the catalog. Huey didn't believe Julian. Everyday Huey would ask his dad if the catalog was here but his dad would say no every time. Finally the catalog came. So they sat on the couch to look at the catalog. Huey kept asking "Where are the catalog cats?" His dad asked, "What cats?" Huey started to cry. Julian's dad asked Julian what is going on in a loud voice. Read this book to see if Julian gets in big trouble.
My favorite part of the story was when Huey danced when the catalog came because it made me laugh. My favorite character was Huey because he made me laugh while reading the book. He would believe everything his older brother Julian told him and it would make me laugh. I liked the book because I wanted to see if Huey and Julian could actually see the catalog cats.
I would recommend this book to someone who loves cats. I think this book teaches you to be honest and always tell the truth because if you don't something might go wrong.