Ready Freddy, Apple Orchard Race
Written by Abby Klein
Illustrated by John McKinley
Reviewed by Niamh C (age 8)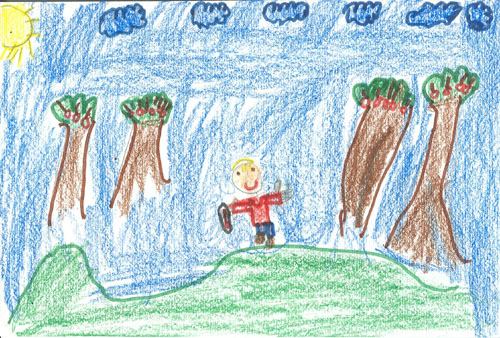 In the story Ready Freddy Apple Orchard Race we meet a boy named Freddy. His class is going to an apple orchard. Farmer Bob owns the apple orchard. He puts together a hunt for a wooden apple. He hides the wooden apple somewhere in the apple orchard. There is a prize for $5.00 for the kid who finds it. There they can pick apples and eat cider but, there is a boy named Max and he is a very mean bully. Freddy thinks that Max is going to cheat his way to the prize. Max is known for cheating to get what he wants. Freddy is determined to keep Max from winning the prize by cheating. Will Max cheat his way to the prize? Read the book to find out if Max cheats his way to the prize.
My favorite part of the book was when Max and Freddy become friends because it surprised me. I was surprised because Max was teasing and being really mean to Freddy. One of my favorite characters is Chloe. Chloe is in Freddy's class. I like Chloe because she reminds of my friend Lauren. She reminds me of Lauren because Chloe and Lauren are girly girls. I liked the book because it kept me wondering who would find the wooden apple. I was wondering if Freddy would find the wooden apple before Max.
I recommend this book to people who don't like cheaters. For example Max is going to try to cheat to find the wooden apple and Freddy is going to try to stop him. This book teaches you not to cheat for any reason because cheating is wrong.