The Stories Julian Tells
Written by Ann Cameron
Illustrated by Ann Strugnell
Reviewed by Jason J (age 8)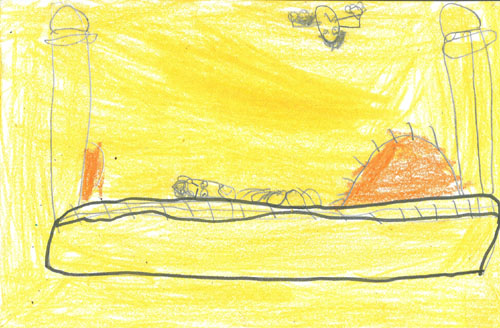 The main characters in this story are Julian and Huey. Julian likes to tell stories. Anytime he tells stories his little brother Huey always believes him. But when Julian tells stories sometimes he gets in deep trouble. Like when Julian told Huey that in catalogs, cats come out and work in the garden. When they get the catalog, Huey cries because he thought that cats would pop out of the catalog and they don't. What happens next? Read the book to find out.
I like the book The Stories Julian Tells because I think it's funny. I think it's funny because Julian is telling funny stories. My favorite funny part was the story about a tooth. Julian says that his dad has a trick to geta tooth out. Julian says his head might fall of with the tooth. Another funny story is when Julian thinks he is growing by eating the leaves of a fig tree.
I recommend this book to people who like to read and people who like to laugh because this book has many stories in it and it is really funny. My favorite part of the book is when Julian thinks by eating the leaves of a fig tree he can grow. I think the book was really good because I learned some new words as I read the book.