Magic Tree House: Dinosaurs Before Dark
Written by Mary Pope Osborn
Illustrated by Sal Murdocca
Reviewed by Elias M (age 9)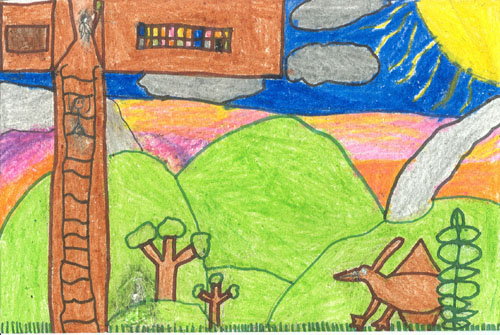 In the story Dinosaurs Before Dark I met Jack and Annie. Jack and Annie travel through time using a magic tree house and a book. Jack didn't realize that making a wish while reading a book in the magic tree house would cause his wish to come true. In this story Jack was reading a book about dinosaurs and wished he could go back in time. Suddenly the tree house began to spin and it took Jack and Annie to the Jurassic period. During that time, the dinosaurs were alive. Jack wanted to leave the Jurassic time period because of the T-Rex. Living while the dinosaurs were alive was scary for Jack and Annie and now they want to go back home. In order to get back to their time, Jack and Annie need to get back to the tree house. So Jack is hiding behind a palm tree as he can tries to get the book they need to get back home to Pennsylvania. If the T-rex spots Jack he will eat him. So Annie gets the Pteranodon to save Jack since it can fly. Does the Pteranodon get to Jack fast enough to save him? Read the book to see if the Pteranodon saves Jack in time.
I think Annie was helpful in the book because if Annie didn't make friends with the dinosaurs they wouldn't have gotten home to Pennsylvania. I like The Magic Tree House series because in all the books Jack and Annie go on adventures. I think it was funny when Jack was riding a dinosaur because it was unusual.
I recommend this book to people who like adventures because in the story Jack and Annie travel through time. I recommend it for people of all ages. I think this story teaches you about history because in some pictures in the book it would show you what things used to look like. For example when Jack and Annie where in front of a castle.