The Magician's Elephant
Written by Kate DiCamillo
Illustrated by Yoko Tanaka
Reviewed by Hannah M (age 8)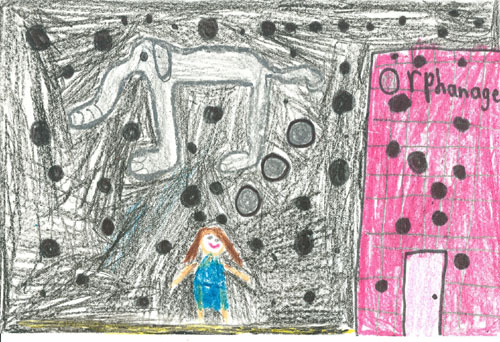 In this story called The Magician's Elephant, I met a boy named Peter. Peter is an orphan because his parents died. When his parents died Peter got separated from his sister. Vilna Lutze is Peter's master. Peter is in military school. One day Peter was in town and stopped at a fortune teller's tent. The fortune teller said, "An elephant will lead you to your sister." Peter left confused. Peter wants to find out if his sister is alive or not because Vilna Lutze told him that his sister was dead. Did Vilna Lutze lie to him? Will Peter find his sister alive or not? Read this book to find out!
I think Peter is brave because Peter was daring to go in the dungeon. Peter went to the dungeon to get the magician so he could send the elephant back home. I think Peter is a trooper because he was able to survive through losing his parents and his sister. Peter now lives his life in military school with no family to love. My favorite part of the book was then the magician made the elephant disappear back to Africa. That is my favorite part because I like the way that the elephant just vanished with the wave of the of the magician's wand.
I would recommend this book to someone who likes a little scare, magic, and sadness. If you are a person who likes elephants and magic than this is the book just right for you. I think this story teaches you that you can't believe everything someone tells you.