The Land of Stories The Wishing Spell
Written by Chris Colfer
Illustrated by Brandon Dorman
Reviewed by Jessica T (age 8)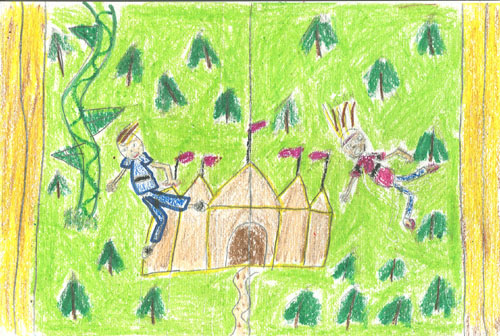 In The Land of Stories, The Wishing Spell, I met Alex and Conner. Alex is super smart, pays attention in class and is really friendly. Conner does not pay attention in class, falls asleep in class and is not that friendly. Their dad had just died so they sold his book store and now they live in a smaller house. Today is their birthday and their grandma comes to make dinner and gives Alex and Conner a fairytale book. Alex and Conner find out this book is magical and they fall into it. Then as they are exploring the book they met a man frog. He was very friendly. After hearing what happened he showed Alex and Conner the wishing spell. Alex and Conner needed the wishing spell to get home. They have to collect eight items, but someone else is collecting the items too and the wishing spell can only be used once more. Will they get the items they need?
I think The Wishing Spell is unique because the main characters fall into a fairytale book and have to collect items that are worshipped in fairy tales to get home. Like when they have to get Cinderella`s glass slippers. I think this is the best book I have ever read because of all the magical things in it. Like a fairy or the magic fairy tale book. I think the story is mind blowing. I think it is mind blowing because whatever you didn`t expect to happen, happens. Like when Alex and Conner get saved by a frog.
I would recommend this book to people who like adventures because Alex and Conner have to do a lot of exploring to get home. If you are a person who likes fairytales you would like this book too. I think this story is fun and adventurous because you never know what is going to happen next.