Courtney the Clownfish Fairy
Written by Daisy Meadows
Reviewed by Ariana R (age 9)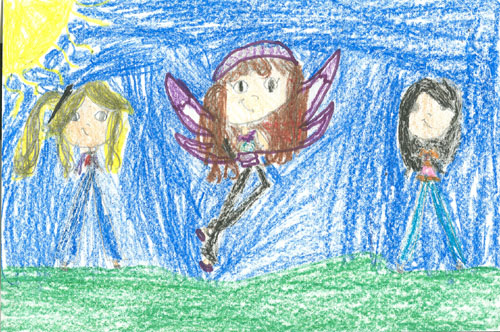 In the story I met some characters named Kristy and Rachel. They are best friends. For spring break Kristy invites Rachel to stay at her gran's house. Kristy's gran lives near the ocean. Kristy and Rachel are friends with the ocean fairies. The ocean fairies are fairies that have pets that live in the ocean. The fairies gave Kristy and Rachel lockets that had fairy dust in them. The fairy dust inside them would turn them into fairies. When Courtney came, she asked Kristy and Rachel to help her find the last piece of the golden couch shell. Courtney used her wand to transport them to a part of the ocean. Courtney found her pet clownfish named Squirt, but when they try to find the couch shell Jack Frost comes with ten goblins. Jack Frost wants to destroy the couch shell because he hates it when everyone is having fun at the beach and he can't stand getting sand between his toes. What will happen next to Courtney, Kristy, Rachel and Squirt? Will Jack Frost get his hands on the golden couch shell and destroy it? Read this book to find out what happens next!
I like this book because it is funny and it has adventure. I thought it was funny when the goblin got his nose stuck in a giant clam. The book was full of adventure because the fairies had to go to the ocean floor and they'd have to trick Jack Frost a.k.a. as the goblin king. This book is my favorite book series known as the Ocean Fairies series. My favorite parts of the book was when Kristy , Rachel and Courtney found the last part of the golden couch shell and when Shannon the ocean fairy played her pretty song on the golden couch shell to bring fun and happiness back to the ocean.
I recommend reading Courtney the Clownfish Fairy because if you like fairies and lots of sea animals this is the book for you. I think readers 5 through 12 years of age should read this book because it has lots of adventure and it teaches girls how to help each other and to have fun.