Harry the Dirty Dog
Written by Gene Zion
Illustrated by Margaret Bloy Graham
Reviewed by Addison S. (age 8)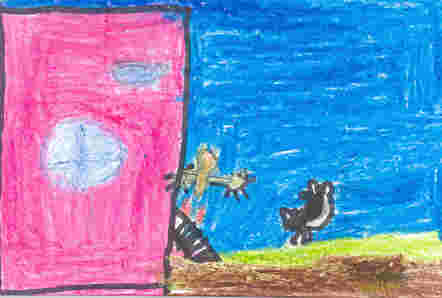 Do you like dogs? Read about a very dirty dog in Harry the Dirty Dog by Gene Zion.
To begin with, Harry is a dog who hates baths. He decides to hide the scrubber in the backyard and then he runs away. While he was gone he played in really dirty places like the railroad and where they were fixing the street. He gets very dirty!
In addition, my favorite part was when Harry slid down a coal chute of a coal truck. I liked that because that's where he got the dirtiest of all. This reminds me of when my cat ran away and came home he was really dirty! We had to spend hours cleaning that cat up. I also really liked the part when Harry came back home after running away. I remember how happy I was when my cat came home, just like the people in the story. It's scary when your pet is lost!
In conclsion, all kids four and up would really like this book. You should go to the library and check it out. Maybe your parents would read it with you!