Frindle
Written by Andrew Clements
Illustrated by Brian Selznick
Reviewed by Amir F. (age 8)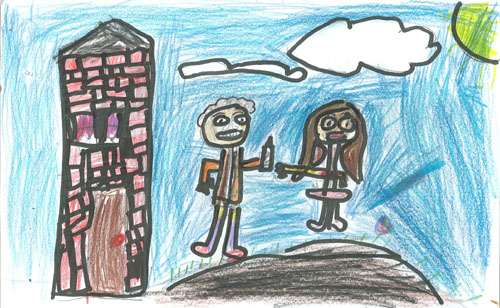 Nick is a funny guy who has a rough teacher. Mrs. Granger, his teacher, gave him oral report to do about dictionaries and words. So Nick decided to make a marvelous new word to replace the word pen, frindle. His teacher got mad that kids were using this new word in class, in school and all around town. But at the end Miss. Granger did something nice. I wish I could tell you, but you have to read the book to find out.
I thought it was funny when I read the word frindle. I thought that because I never read a word like that. I like the way it bounces in my mouth. I also thought it was interesting when Nick said ''Miss Granger was burning holes in the chalk board." I thought that because what he really meant was that Miss Granger was watching him like a hawk. I thought it was amazing that Nick got a check for $2,250! I thought this because a fifth grader got so much money. I only get five dollars when I do work for my mom.
I recommend this book for ages 8 and up. This a challenging book so I would recommend this book for 3rd to 4th graders. If you like realistic fiction you will like this book.