A to Z Mysteries, The Empty Envelop
Written by Ron Roy
Illustrated by John Steven Gurney
Reviewed by Mary K. (age 8)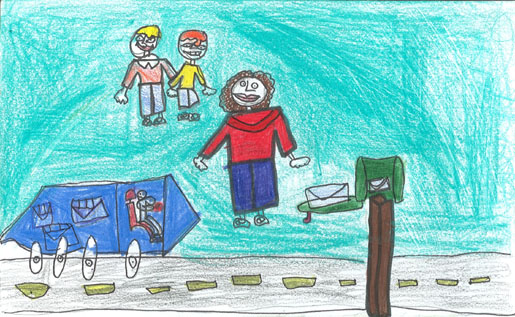 This is a mystery book. Dink, Josh and Ruth Rose all live in Green Lawn, Colorado. They love to solve very complicated mysteries. They don't get why Dink is getting letters from the mailman that say "To Doris, Love Mother." The letters were sent on July 1, July 3, July 5 and July 7. Do you know why Dink got all of those letters? I do, and . . . Oh sorry, I can't tell you. You're going to have to read the book to find out who sent them and why.
I like how the illustrator included a map. Dink, Josh, and Ruth Rose go many places like the library and Dink's house, and I can follow everywhere they go on the map. I also like how the illustrator put a picture of all five letters on a page. That way I can look there instead of picturing it in my head. I like when Dink, Josh and Ruth Rose all went to the library to find out what the stamp was worth. They needed to find out why Doris wanted the letters. I thought it was interesting because Dink, Josh and Ruth Rose looked in books then in newspapers to find out the information which made it very interesting.
I recommend this book to grades second to fourth. I don't think first graders will get it because there are a lot of people in the book and that will mix up their brains. This book is for kids who like mysteries a lot because this is a mysterious book.