Geronimo Stilton, Cat and Mouse in a Haunted House
Written by Geronimo Stilton
Reviewed by Tayte W. (age 9)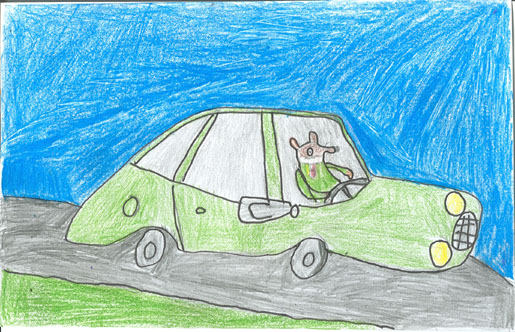 If you enjoy mysteries then you will like this book. One foggy night Geronimo who is a mouse walked into a haunted house. Then Geronimo called his sister Thea to come. They explored the haunted house to find the ghost. Thea didn't believe Geronimo, so then they weren't sure if there was a real ghost. If you want to know if the ghost is real then read this book.
I thought that some parts were very interesting. For example, the style of the writing was unique. The author uses lots of different fonts. Sometimes he uses a different color to write instead of black and sometimes makes the words into designs. Geronimo reminds me of a combination of me and my brother. Geronimo gets scared a lot like I do and he's really smart just like my brother. This book is part of a series and some things are similar about each book and some things are different. The things that are similar are the main characters, Geronimo, Thea, Trap, and Benjamin. Geronimo's job selling newspapers is always the same. This is what is different: the other characters, the main idea, the problem, and their adventures. The adventure in this book is going to a haunted house and in the rest the adventures are different.
I would recommend this book for second to fourth grade. This is good for boys and girls. You would like this book if you like adventures and with some silly sentences. Sometimes it's hard to put it down.