The Princess School
Written by Jane B. Mason
Illustrated by Sarah Hines
Reviewed by Bethany M. (age 8)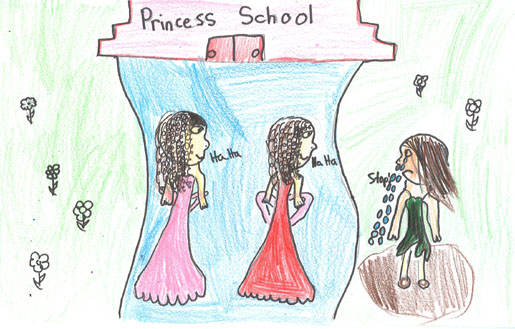 This book is in a series called The Princess School. In this book there is a girl named Ella (Cinderella) who has very mean stepsisters. Ella goes to princess school but she has to walk in mud to get there! Her stepsisters bully her at school and make her late for classes. There is a ball that Ella secretly goes to and each year they have a princess of the year. This year the princess of the year is. . . Wait, I can't tell you. You have to read the book to find out.
This book was very good. I liked it because it has a very good surprise ending. It was also a page turner. I didn't want to put the book down! My favorite part was when Ella was at the ball because Ella was in a beautiful ball dress and she was very happy. That made me smile. Ella changes in the in the book. This is how she changes. In the beginning Ella was very lonely and didn't have any friends. In the end she had lots of friends who cared about her and helped her with her stepsisters.
I would recommend this book to girls because I don't think boys would like to read about princesses. I would also recommend this book to 3rd and 4th graders because 2nd graders and younger wouldn't understand it. That is what I recommend about this book.