Geronimo Stilton: Lost Treasure of the Emerald Eye
Written by first last
Reviewed by Brian D. (age 9)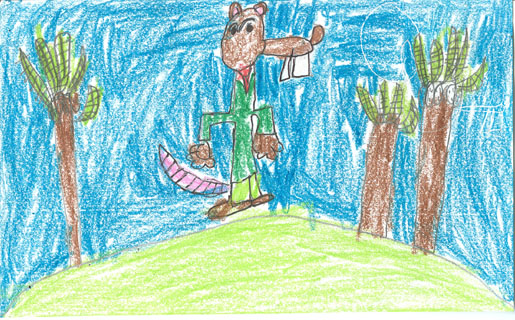 In this book Geronimo Stilton went on an adventure with his sister, nephew and cousin. They were looking for the Emerald Eye. The Emerald Eye is the treasure. They also found a ship called the Lucky Lady. When they set off to sea they had to go through a storm and Geronimo went overboard. His sister and nephew rescued him, but then the boat sank and they had to swim to the island. Will Geronimo find the treasure? Read the book to find out.
I liked how Thea and Trap saved Geronimo when Geronimo went overboard into the water. I thought they were brave to rescue him. I thought they were smart when they used a bird for a clue. They used it as a clue to know if they were near the island. I thought it was interesting that the author made a store called Rats Authority because they copied the name of the store Sports Authority except it's for rats.
I recommend this book to people who like funny books, because I think this book is funny. I also recommend this book to second through fourth graders.