Franny K. Stein Mad Scientist
Written by Jim Benton
Reviewed by Jhoselyn P. (age 8)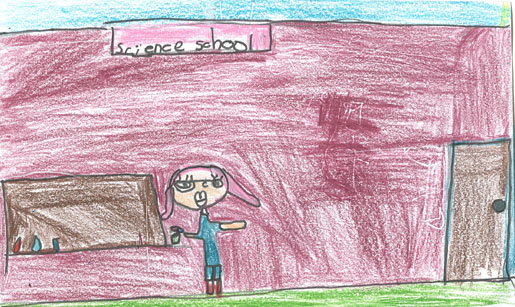 Franny K. Stein built some robots that are destroying the school. She built them because Mrs. Shelly, her teacher, said tomorrow you guys are going to do a show and tell about your hobby. The other students are Phil, Lawrence, and Erin. Phil collects stamps, Lawrence dances an Irish dance, and Erin makes pretty cookies. Can Franny K. stop the robots from destroying the school? Read the book and find out.
I think the book is funny. One funny thing was when the robots wrote that the principal has a rubber butt! I liked the book because it reminds me of my friend. Franny K. is like my friend because they are both mad scientists. Franny K. invents things, and my friend invents things too. I found Franny K. interesting because she is a mad scientist. Another interesting character is Igor. I thought he was nice and funny. One nice thing is that Igor tried to make Franny happy by dressing up as Franny's teacher. That was very funny, and it made me laugh.
I recommend this book to 2nd graders and 3rd graders and also 4th graders because for 1st graders and Kindergarteners it would be too hard. I recommend this book to people who like funny books. I think both boys and girls would like this book.