Geronimo Stilton: The Curse of the Cheese Pyramid
Written by Geronimo Stilton
Illustrated by Matt Wolf
Reviewed by Dominick K. (age 8)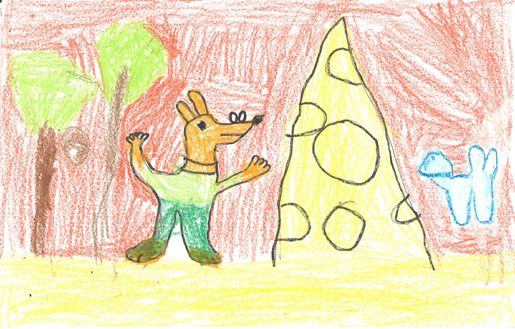 The characters in this adventure book are Geronimo, Thea, Trap and Benjamin. Geronimo wants to go to Egypt to learn about the Secret of the Seven Wonders of the Ancient Mouse World. They were going to the airport when another mouse asked, ''Do you know how many planes crashed last year? '' Geronimo was nervous. When Geronimo was getting on the plane he heard a mouse fixing a wing on the airplane. He got on the airplane anyway. Read the book to find out if they land safely or crash. Read to find out about their adventure in Egypt.
I like the part when Geronimo thought he would have to skydive because he thought he would jump without a parachute. I thought that was funny. Another funny part was when Geronimo felt seasick on a camel because normally you don't get seasick on an animal only on a boat. I like how the author made some words in color because the colors can show how the characters feel.
I recommend this book to 2nd through 4th graders. This book is an adventure book, so if you like adventure books you are going to like this book.