Thea Stilton and the Mountain of Fire
Written by Geronimo Stilton
Reviewed by Amber H. (age 8)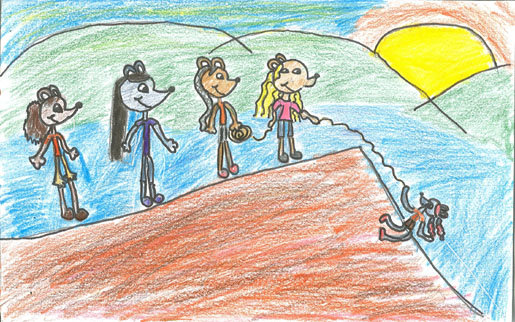 This book is in the series of The Thea Stilton books. Colette, Nicky, Violet, Paulina and Pamela are girl mice who like to solve mysteries. They call themselves the Thea Sisters. This time they go on a journey to Australia because Nicky's parents and her family call her from Australia and tell her that her sheep are sick. Who is making them sick or how did it happen? You will have to read this book to find out.
My favorite part of the book was when The Thea Sisters climbed the mountain because they did not chicken out and in a way I was proud of them. I also liked how the author introduced the five main characters. The author told about each character on her own page. Each character's page told her home and nickname and much more. Another thing I liked is how the author made the word style. He made the book colorful instead of black and white and he made the words in different sizes and different colors.
I recommend this book to second and third graders. I think people who like adventures and a lot of surprises will like this book. I don't think boys will like it too much because there are not too many boys in it. Boys might like the Geronimo Stilton books better.