Mayor Hubble is in Trouble!
Written by Dan Gutman
Illustrated by Jim Paillot
Reviewed by Gabby V. (age 8)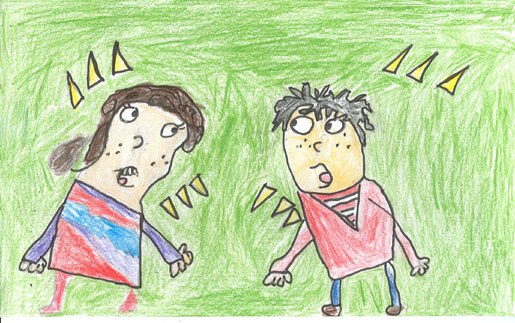 This book is in a series called My Weirder School. In the story Mayor Hubble gets out of jail and A. J. and Andrea are running for class president, because the third grade is having a mock election. Mayor Hubble helps both A. J. and Andrea to try to win the election. Read the book to find out who wins and what happens to Mayor Hubble. Does Mayor Hubble get in trouble?
In the book, Mayor Hubble is in Trouble, I liked when A.J insulted the ferret. I liked it because he said, ''I hate ferrets!" and also said, "You're a dumb head." I thought both were funny. But I did not like it when A.J. and Andrea played hardball like when Andrea wrote mean things about A.J. Then A.J looked in her diary. I thought they were both being mean. I liked the pictures in this book, how they express the characters' feelings. My favorite characters are A.J. and Alexia. I like A.J. and Alexia because Alexia likes to ride her skateboard and I like to ride my skateboard, too. A.J. is my favorite character because he is funny. My favorite part is when A.J., Ryan, Alexia and Mayor Hubble and his other friends go to their secret hiding place.
I recommend this book to kids who like to laugh out loud. Also to kids who like sneaky books. This book has lots of very funny characters. Like A.J. who is a funny guy. This book is for mostly second and third graders. This book is for mostly second and third graders because it will be a hard book for kindergarten and first graders.