Creepella Von Cacklefur - The Thirteen Ghosts
Written by Geronimo Stilton
Reviewed by Alex D. (age 8)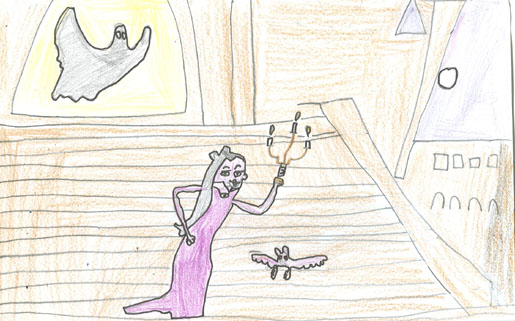 Do you like mysteries? Well, Creepella does. Creepella is a mouse who is a journalist and she writes about mysterious stuff. She and her friend Billy will go on a journey to find the thirteen ghosts in Squeakspeare Mansion. Will Creepella and Billy find the thirteen ghosts? Find out when you read Creepella von Cacklefur, The Thirteen Ghosts.
The characters I liked are Creepella and Billy. I like Creepella because she does all the work. She is the one who worked to bring Billy with her to try to find the thirteen ghosts. I like Billy because he is always scared and faints a lot. That is funny. I think Bitewing, Creepella's pet bat, is similar to my dog because they both stay near their owners and they both have high squeaky voices. This book is like the Geronimo Stilton books because they are by the same author and Geronimo is in this one, too! He is only in it for one chapter, though.
I recommend this book to people who like mysteries because it is all about a mystery. I recommend this book for third and fourth graders because fifth graders might think this is boring.