Jake Ransom and the Skull King's Shadow
Written by James Rollins
Reviewed by Dylan A, (age 10)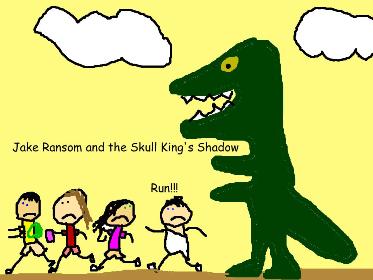 Jake Ransom is a book series about an eighth-grade boy named Jake Ransom. Jake's parents mysteriously disappeared when he was young. Ever since then, he has studied the Mayan culture to try and take after his parents, who were Mayan explorers. One day, Jake got a week-long break from school. When he arrived at home, he received a package with two Class A tickets on a plane to a hotel named Savoy. He took himself and his big sister, Kady. When they got there, they went on a tour in a museum. Then Jake and Kady went into a model of a famous pyramid and somehow triggered a portal to Calypsos, a strange world. They meet two new people, a Roman boy named Pindor and a Mayan girl named Mari. Eventually, they all get caught doing bad things, and Pindor says that they are spies sent from the Skull King. What will happen to them? Who is this Skull King? To find the answer, TRY READING THE BOOK.
Let me just say that this book literally caught my attention from the very first sentence. The prologue was very interesting with the chase scene. It was very exciting and made me feel energetic. My favorite character was Jake because he is really adventurous and daring.
I recommend this book to people who love novels or fantasy. High level readers and middle school students would like this book.