The Cat in the Hat
Written by Dr. Seuss
Illustrated by Dr. Seuss
Reviewed by Bennie Z. (age 6)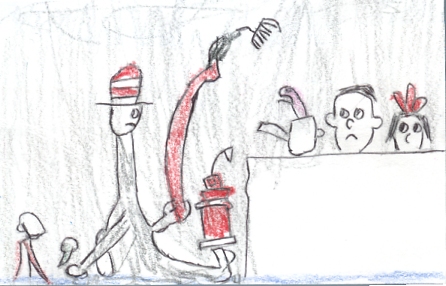 It was raining outside. Nick and Sally's mom was out. They were very bored at home. The Cat in the Hat came to cheer them up. He played somenew tricks, but messed up the house. At last, the Cat in the Hat cleaned the house quickly with another good trick before Nick and Sally's mom got home.
My favorite part is when the Cat messed up the house because it's hard to see the Cat made a mistake. My favorite character is the Cat because he is tricky. This story relates to my life because it tells us that everyone should be responsible for their mistakes.
This story has pictures and they help tell the story. Other people should read this story because it teachers a really good lesson that you should fix your mistake if you make one.