Courtney the Clownfish Fairy
Written by Daisy Meadows
Reviewed by Alyssa G. (age 7)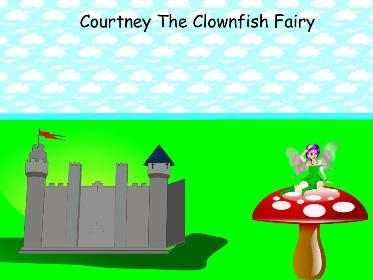 Courntney the clownfish fairy is about two girls and their names are Kristy Tate and Rachel Walker. They have a secret. They are best freinds with the fairies! They are helping the ocean fairies. There are also the rainbow fairies, weather fairies, and lots more! The girls were invited to the special ocean gala every year! Every year at the party, Shannon the ocean fairy played a song on the magic golden conch shell. It was on the magic table when Shannon was about to play it when Jack Frost appeared. He said he hated the ocean because he hated getting sand between his toes. He ordered his goblins to take the magic golden conch shell. The goblins fought about who would hold the shell. Then the shell slipped from their fingers! The shell broke into 7 pieces. The fairies tried to get the pieces, but Jack frost was to fast for them. He scattered them in the human world! Now the fairies are looking for the 7 pieces. They found 6 so far and are looking for the last piece.
I liked this book because I love using my imagination and I love fairies. My favorite part was the ending because they have a party.
I recommend this book to second graders who loves to read. The words in this book will help second graders with their spelling. The book has a lot of big words in it.