Skippyjon Jones
Written by Judy Schachner
Reviewed by Reilly B. (age 7)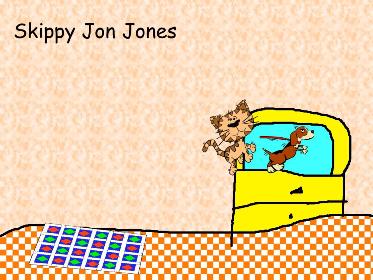 Skipyjon Jones is a siammese cat, but he thinks that he is a Chihuahua. He is always getting into trouble and when he gets in trouble he has to go to his room. When he goes to his room he goes into his closet. While he is in the closet he goes on an amazing trip, but he does not go alone. He goes with his chimichangos. He always lands in his mama's hands. To find out what other crazy things happen to Skippyjon Jones read this book.
My favorite character was Skippyjon Jones because he was really funny. Like when he jumps up to the mirror, wow! He'll say he always sees a Chihuahua. I thought that it was a very good book. This kind of reminds me about my sister Payten. She always is runing around like crazy just like Skippyjon Jones.
I recommend this book to kindergarden, 1st grade and 2nd grade students.