Lucy on the Loose
Written by Helen Cooper
Illustrated by Amanda Harvey
Reviewed by Alyssa G. (age 7)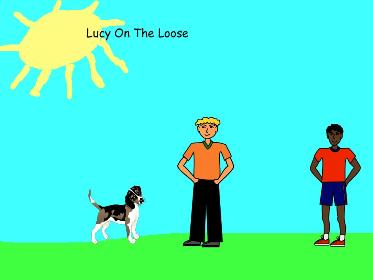 Lucy is a dog and her owner's name is Bobby Quin. He got Lucy on his eighth birthday. Lucy is a beagle who is brown and white with black spots. Lucy loves to jump and run! Bobby is shy meeting new people, but when Bobby is with Lucy he is braver! Bobby has one friend and his name is Shawn. Shawn is new in the neighborhood. One day Bobby and Lucy went to Shawn's house. When Bobby goes to Shawn's house the boys went to the backyard. The boys were talking. When Bobby turns around, Lucy was gone! To find out if Bobby ever finds Lucy read this book.
This book teaches you that pets can be a big responsibility. If you are 5 years old or older you could ask your parents to get a pet. I liked this book because the ending is a happy ending. I felt like Bobby when I was new at a different school. The only person I knew was my friend Natalie. Natalie is just like Lucy because she helped me make new friends.
I recommend this book to second grade and third grade students because it has some challenging words in it. These readers would also like the illustrations because they are black and white.