Holes
Written by Louis Sachar
Reviewed by John P. (age 11)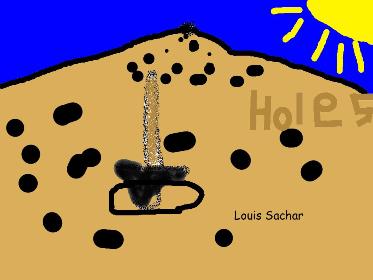 This is about a boy named Stanley. He's a troublesome boy, well not really, he was at the wrong place at the wrong time, and he is held at court of stealing Clyde Livingston's world series shoes. He was accused of stealing and he was found guilty. He had two choices: go to Camp Green Lake or jail. His parents decided on Camp Green Lake. The choice was made and now Stanley is on his way to camp. They're in the middle of nowhere in Texas and it's really hot there. He sees a building on a dry lake and he's nervous. Now he's starting to regret making this choice. See what happens at Camp Green Lake.
I hated the character Mr. Sir, the Warden, because he makes children suffer in the heat in the middle of nowhwere with only a canteen of water and a pack of food. My favorite part was when Stanely ran off into the burning dried lake to find his friend Zero. I loved the book, I read whenever I got a chance and whenever my friend talked to me I had to shush him so, READ this book!
I recommend this book for any one that likes harsh and happy books. Some of the characters in the book are harsh to the bone. Audiences out there that like cool books will probably want to read Holes.