Adam Raccoon and the Circus Master
Written by Glen Keane
Reviewed by Armando (age 7)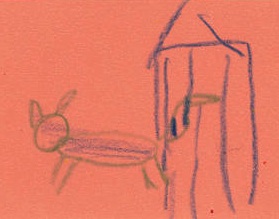 This book is about a raccoon that wants to be a circus actor. The raccoon's name was Adam. He lived with King Aren, he was a lion. Adam and Aren always ate together and they were thankful for their food. Aren told him stories at the chimney where the fire was. Adam loved King Aren's stories. He always listened to King Aren's stories. Adam loved lying by the fire when he was hearing the stories. But because he wanted to be a circus actor he ran to the circus in the night. But he was treated badly.
My opinion for this book is that it was great. My favorite part was when the story said that the raccoon was not homeless because he lived with a lion who was a king. I also liked when the lion forgave the raccoon for running away to the circus in the night.
I recommend this book to a kid that gets treated bad and has to live somewhere that they don't like. But no matter what your parents will be there for you and will care for you. This book should be recommended to kids that are 5 up to 11.