The Sea Of Monsters
Written by Rick Riordan
Reviewed by Donovan F. (age 9)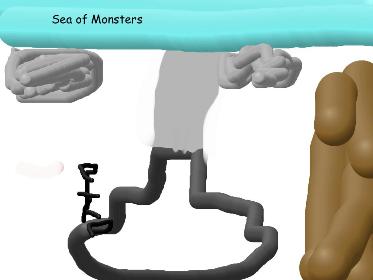 This book is about Percy Jackson fighting lots of monsters. Percy's mom sends him to Camp Halfblood because he will be safer there with people of his own kind then out in the real world. When the monsters attacked camp halfblood they burned down all houses and Cabins. Medal bulls attack the campsite too. There is a good cyclops who helps Percy fight the medal bulls. They kill all the bulls and they start to rebuild the camp. There are many other battles in this book. You will have to read the book to hear about these epic battles. After they rebuild the camp Percy had a dream that his friend Grover was looking for a god named Pan. In his dream Grover walks into a trap and a cyclops thinks he is another cyclops. To learn more you should read this book.
I like this book because I really like monsters, cyclops, and halfbloods. My favorite scene is when the cyclops sits on the fire. I thought this was funny because his clothes catch on fire and he has to run around to put the fire out. I like books that have cyclops as characters.
I like this book because I like cyclops. I recommend this book to kids 7 years or older because I think they will find the characters interesting.