The Calvin and Hobbes Lazy Sunday Book
Written by Bill Watterson
Reviewed by Liam M. (age 7)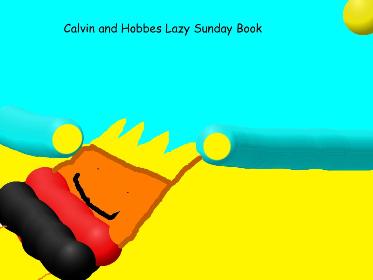 Calvin is a little boy that has a great imagination. He has many forms. Here are a few; space man spiff, and stupendious-man. ?? I am as well surprised that I can read Calvin and Hobbes all by myself. Hobbes is a great mystery but Calvin's imagination is so powerful that Hobbes is Calvin's imagination. Read the book to see what other crazy things Calvin is planning to do!
I think the book just warms my heart with energetic funniness. I guarantee you will love it too! This is also a book for deep funniness even if you're under second grade. This book is part of a series and the book is similar to other books in its own way? and its different in its own way?. That's why I like it so much.
I would think this is a book for second grade and up. It has good illustrations and is a very challenging BOOK. I really love the book (top of the order all my life). I've been reading it, well not all of my life, but I've been reading it a LOT because it is a REALLY, REALLY, REALLY GOOD BOOK!!!!!!!!!!!!!!!!!!!!!!!!!!!!!