Prillas Prize
Written by Deborah Boone
Reviewed by Aditi S. (age 7)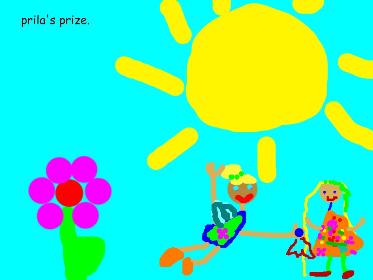 The story is about Prilla getting a prize. She played a lot of games. She didn't win any prizes. Tinkerbell gave her a prize for setting a new record in trying. Prilla is a clapping talent fairy. This story takes place in Pixie Hollow. Prilla is a very special fairy because she is the only one who has a clapping talent.
I love the pictures in the book that the artist drew. The pictures are great because they are very colorful. They look like they are water color pictures. My favorite part is when Tinkerbell gave the prize to Prilla. I liked it because Prilla worked so hard. Prilla reminds my friend because she claps a lot.
I recommend this book for second and third grade students. They will like this book because it shows them why it is important to try. Girls would enjoy this book because the main characters are girls.