The Way of the Ninja
Written by Tracey West
Reviewed by Alex. A. (age 7)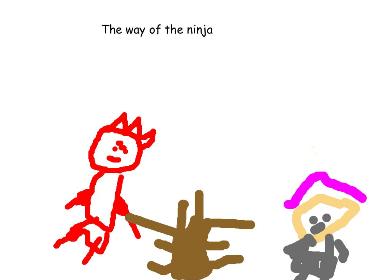 This is a story about a ninja who wants to save her sister. kai and his sister Nya are working in an amor shop. A guy named Sensei Wu told them about the dark lord named Lord Gormadon who wants to rule the earth. But first the skeleton army needs to find a map of ninjago. If they find the map they will find 4 golden weapons that they can use to rule the world. Kai doesn't know why but the skeleton army took Nya. So Kai trained with Sensei Wu to become a ninja and save his sister.
I really liked the end of the book becuase there is an unmatched fight. There are three ninjas fighting against Kai. This is my favorite part because when kai was training, the training was realy cool. The training had moves that I really liked. There was a spin kick that awesome. There is a TV show that is based on this book. The tv show is better than the book because I like to watch the action. I still like the book because it helped me understand the tv show better.
I recomend people who like ninjas or ninjago read this book. Any age group could read this book. Adults can read this book to their kids.