The Mark of Athena
Written by Rick Riordan
Reviewed by Aidan M. (age 10)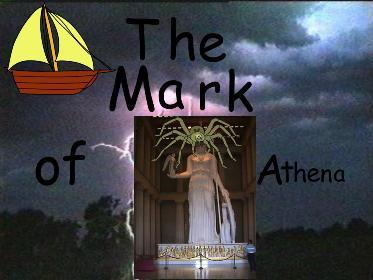 Your action-packed series is baaaack! With more action, adventure, and romance (despite one of my previous reviews say, this one actually has romance.) And so is Percy with six other demigods. Percy has, at the time, been knocked unconcious and lost his memory for the quote on quote "good of olympus" (says the goddess Hera, the seemingly divine queen of the heavens.) But finally, Percy gets back his memory and his friends, to gather together to defend against the literally unseen threat that has made an appearence in melted porta-potty sludge (twice), Gaea. Find out what other astonishing secrets lay within every nook and cranny of this book.
I loved this book because the the suspense within every chapter is like MURDER. I never had a favorite part in any of the books because it was like eating a well roasted kabob. The flavor was pitch-perfect. The only person (god, whatever) was ironically Hercules, because of the thick-headed jerk he was in this book. This series is unlike any series that I've/you've ever read/seen/heard of. Rick's style is probably, mainly, mostly based on humor and suspense. This book is within an ENORMOUS series by Rick Riordan. I felt more excited within reading every letter.
I would recommend this book to advanced readers and fantasy/adventure lovers. Probably because of all the mystery and adventure that shrouds the ink and pages of this book. Rick Riordan doesn't just make books. He makes magic.