Gerald Mc Boing Boing
Written by Dr. Seuss
Illustrated by Mel Crawford
Reviewed by J.P. (age 9)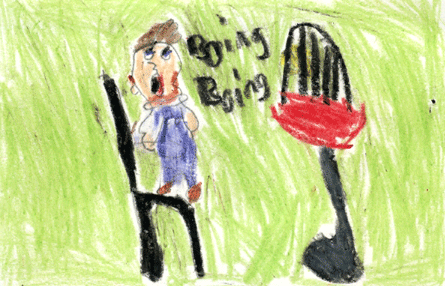 This story is about a boy whose first words are "Boing Boing". It all started when it was his birthday. He was 2. He said "Boing Boing". His dad rushed to the phone and called the doctor and told him to rush over. The doctor came and said "I have no cure for this" and left. His parents said we should send him to school so he can learn words. When he came home he had a note from his teacher. It said he can't go to school because he can't say crazy words in class. So he ran away and heard a voice ask him are you the boy who makes "Boing Boing" sounds? He asked Gerald if he wants to be famous. Read the book to find out the rest.
I liked this book because it's funny when Gerald's first words are Boing Boing! My favorite part is when Gerald becomes famous because he gets to make sound effects for movie companies. Gerald is my favorite character because he makes me laugh every time he says "Boing Boing"!
I recommend this book for ages 6-12. You will definitely want to read this book over and over again. If you like to laugh then this is the book for you!