The Lemonade War
Written by Jacqueline Davies
Reviewed by S.M. (age 9)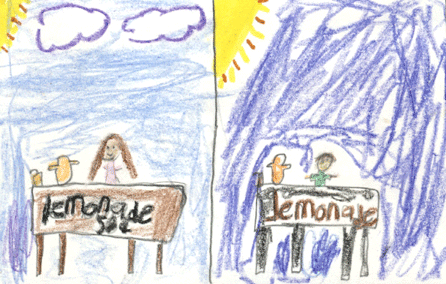 Do you like competing on a hot summer day? Brother and sister, Jessie and Evan made a bet whoever made 100 dollars selling lemonade in five days wins the lemonade war. Jessie tries to get more customers by polishing people's nails and offers face painting to her customers. Evan's partner quits on him and he is left all alone in the blazing hot sun, not knowing what to do in order to win this lemonade war. Read to find out who wins.
I like this book because it has a lot of competing. It gives me a really good picture in my mind about them thinking of ways to get more money like giving out snacks with the lemonade. The lemonade war really made me want to read the next book in the series, The Lemonade Crime. I think the lesson in this book is that sometimes competing can bring out the worst in you.
I recommend this book to people who like competing AND like making lemonade on hot summer days. Even if you don't like competing I bet you will still LOVE IT!!!!!