Diary Of A Wimpy Kid: Dog Days
Written by Jeff Kinney
Illustrated by Jeff Kinney
Reviewed by R.S. (age 9)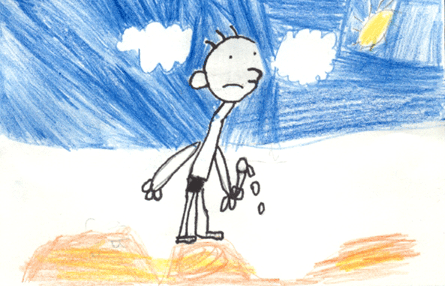 This book is about a boy that writes a journal that says "diary" on it. Gregory keeps a journal because he wants to talk about his summer vacation. The whole story is about him and his friend, Rowley. The two boys go to the beach and they pull a prank on two people. One prank they pulled was borrowing money from his friend's Dad. They put the money on the deck and slipped it through the cracks of the wood. When someone noticed it and tried to reach for the money, they pulled it so the person couldn't get it. They kept on doing silly things all the time. Another funny part was at the beach. Gregory was going to see the scoreboard to see if he was number one in a game. When he went to look it, the scoreboard said "Gregory is an idiot". He got really mad when he saw this written on the scoreboard. Overall, this book is fun reading for kids ages seven to ten.
I think this book is really funny because Greg wants to go to the Cranium Shaker, a ride, but it makes him sick. This part of the book is really well written and will make you laugh hysterically. My favorite part was when he got his dad's journal to see what his dad writes in it. He saw his dad wrote, "SELL GREGORY!" Gregory got nervous when he saw this and called the police. The police came and stopped their car as they were going to a baseball game. The police let his dad go because obviously his dad didn't really mean to sell him. Gregory and his dad went back home and the police officers went to the game. This book is realistic and any kid who reads it would relate to the adventures Gregory, his friends and family have.
I recommend this book to people who like funny books. You will really enjoy looking at the comics that are in this book. The pictures really help to make the story come alive in your mind. I like to laugh and smile and this book sure made my stomach and cheeks hurt from smiling and laughing too much. I think kids of any age would like the adventures that Gregory has with his friends and family.